When I break up with someone I ship them off to an imaginary island where they roam free and make coconut snowmen and live very happy, very celibate lives far, far away from me. It's a pretty effective system; I don't think about what they're doing or whom they're doing it with, and gradually the left over feelings start to fade. But sometimes my island refugees escape via social media raft and decide it's time to tell Facebook all about their super awesome new relationships. And then I want to escape to a remote, Internet-free island IRL.
Seeing your ex with someone new is always going to be weird, no matter how shark-infested your island waters, or how long you've left them stranded. Here's how to deal with the weirdness and get back to the mainland, because you have far more important things to do than worry about who your ex is smooching.
You start Internet stalking their new partner WAY too hard
It's funny how fast a simple "in a relationship" status can devolve into creeping on your ex's new girlfriend's sister's wedding photos. It's a slippery slope, and no matter how strong your self-control, eventually you're gonna end up looking at her profile pictures and the profile pictures of everyone she's known since 2009.
The fix: My advice is to block them both the second the status appears. It'll keep you from creeping and you'll move on faster if you don't have the capability to dig deep into her past.
You compare yourself to this new person in every way that matters—and every way that doesn't
Is she prettier than me? Is she smarter? Is she taller? Is she funnier? Does she have a better job? Does she have more friends? For some reason your brain always tricks you into thinking that you're in competition with the new person in your ex's life, which is silly since A) she already has the ex and B) you don't really want the ex anyways.
The fix: It's important to remember that your relationship ended for a reason, and that no matter how similar or different you are to the you-replacement, that isn't going to change the fact that you and your ex weren't a good match. So stop comparing and start blocking, because she might be looking at your profile and thinking the same thoughts, and neither of you deserves to feel inferior.
You wonder if your ex's family and friends are comparing you to this new partner, and then you wonder who's 'winning'
This is going to be difficult, especially if you were close to your ex's family and friends. You probably haven't talked to them since the breakup, so you don't know how they feel about you now that you're the ex, and you'll probably never know how they feel about you in comparison to the new girlfriend/boyfriend.
The fix: The cool thing about this is that since you don't know what they're feeling, you get to decide. If you want to believe that they love you the most, then go with that. No one's here to prove you wrong, so tell yourself whatever you need to hear and accept that as the answer.
You start to either deeply hate or deeply love this new stranger you've never met before
She's the worst. You just know it. You can feel it in you bones. Or, she's incredible, she's everything you're not. Either way, you can't stop thinking about her—it's like she's the closest person in your Internet life, for better or worse.
The fix: My advice is to regard her with the same level of interest and companionship that you would anyone who shares a similar life experience. You don't have to like her, but you should respect her, because she's probably going to deal with the same weird things that you dealt with in your own relationship with your ex.
You get really angry with your ex all over again
This is kinda valid. You're hurting and they're kissing. It isn't fair, and it never will be, so the best thing to do is belt some power ballads and move on. Calling your ex and yelling at them won't change anything, it'll just make you cringe in later years when you've met someone new and can't believe you were hung up on that jerk for so long.
The fix: If the power ballads don't do the trick, there's actually some really awesome self-help books out there that might help you put it all in perspective. When I broke up with my ex I found It's Called a Breakup Because it's Broken by Greg Behrendt and Amiira Ruotola-Behrendt and Exorcising Your Ex: How to Get Rid of the Demons of Relationships Past by Elizabeth Kuster really helpful. There's no shame in self-help, and it's always better than yelling.
You can't stop talking about your ex and it's really starting to be an issue
Your family and friends love you, they do, but they probably don't want to hear about your ex anymore. I know, it sucks. You have so many feelings to share and you need someone to share them with. There is definitely value in talking it over with someone close to you, but be considerate of their time and patience.
The fix: Try asking a friend if they'd be willing to sit down with you and discuss it at length, and then keep the ex/ex's new love stuff contained to that conversation and not every casual chat. Boundaries are important, and you can't let your past ruin your present relationships.
You decide that it's time to flirt with EVERYONE
Sometimes, when you find out your ex has moved on, your brain broadcasts the following message on repeat: "Hurry up and find someone too!" You message everyone on Tinder, you go to all the parties, and you tip a little extra at the coffee stand where the cute barista works. You shave your legs, you watch makeup tutorials, you buy pretty new things, you do anything and everything you can think of to get some attention, and then you still feel icky. Suddenly, you're almost in an imaginary competition with your ex, which you just can't win. It's amazing to want to get your flirt on and flaunt your fabulous self, but it's no fun when you feel pressure to do it.
The fix: Instead of looking to an outside source for approval, maybe take a couple days to re-anchor yourself. Make a list of all the things you do well and all the good qualities you possess and then spend a little time coloring or reading or running or whatever helps you decompress. Basically, you need to fall back in love with yourself. That's the only person who matters in this scenario.
You just want to listen to sad songs and stare out the window, OK?
I have a specific 'in-my-feelings' playlist and when I'm sad I like to stare out windows and get really melodramatic about how I've lost the love of my life and I'll never find anyone to cuddle with and feed me chocolates. Sometimes wallowing in your feelings is a good thing, and sometimes it's really counterproductive.
The fix: If you too are a fan of sad songs and rainy days, I suggest you make a second playlist of upbeat-jiggy songs to play after you've used up all your feelings songs. Mine is called, "SUCK IT UP, BAE" and it makes me dance and giggle and stops the feelings in their tracks.
Just remember, you're fabulous, you're fierce, and someday you're going to be the ex with the new lover. Until then, make the island, block the exes, and keep the focus on yourself, not anyone else.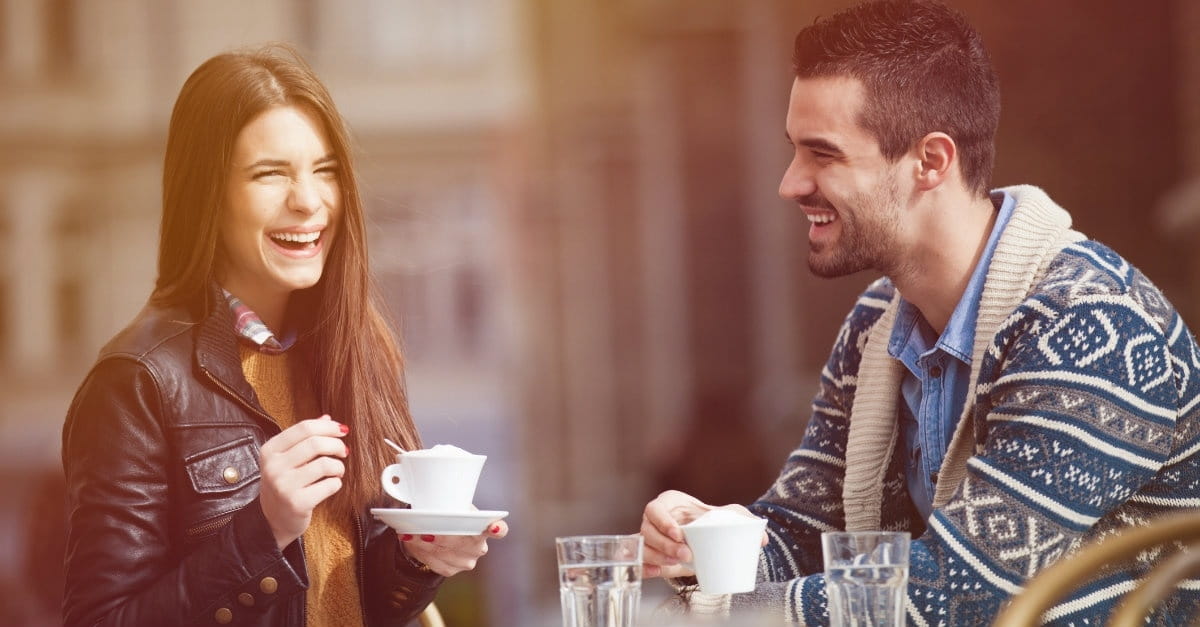 EDITOR'S NOTE: He Said-She Said is a biweekly advice column for singles featuring a question from a Crosswalk. com reader with responses from a male and female point of view. If you've got a question about anything related to singleness or living the single life, please submit it to Hesaid-shesaid@crosswalk. com (selected questions will be posted anonymously).
I'm a 24 year old male, and I have never been in a relationship. There were dozens of girls that I had feelings for, and I've made it obvious, but I never got liked back. I don't think I'm that bad looking, and I don't think I'm socially awkward, and yes I am a born again Christian, have a job, and am ready to get married. The last time I really liked someone was 4 years ago right before I became a believer. But now I found someone that I am interested in. I met her on a hike, we talked almost the whole hike, and I really felt like we were making a connection. Then I came across her at church and I just got those feelings where I said "I think I'm really interested in this girl." Later, I talk to her small group leader and find out that this girl has a non Christian boyfriend, and they've been together for a few years. So obviously it's not "equally yoked" to be with a non Christian, and so my immediate thought is "well she can be redeemed, by being with a Christian." I don't even know if she feels the same way as I do about her. My perspective could be flawed since I've never had anyone like me back. So please, any advise?
First of all, you are not the only person to be in your situation. It seem like we're hearing more and more from single adults who are struggling in similar circumstances like yourself – interested in someone, but not being seen as a prospective mate or liked back.
You say in the past you've "made (your feelings) obvious," but what does that really mean? Did you actually ask the girl out or did you just spend time together hoping she would get the idea. What I've witnessed with many young people these days is that they "hang out," text, post, chat, tweet, etcetera together, but don't really share their true feeling audibly with someone they like.
What may seem obvious to some is oftentimes just normal social networking and not deliberate and intentional pursuit.
In regards to your latest interest, it sounds like you really made a connection with her on your hike, but found she is already in a relationship, albeit with a non-Christian. As tough as that is, you can still be friends and continue to talk.
Build a casual friendship and allow her to see the difference between a person who follows Christ with one who does not. Since you haven't gained the right to speak into her life, sharing how she can be redeemed may not be the most direct way into her heart.
You are also (just) at the cusp of your adult life. Spend this time getting to know as many people as you can, develop who YOU are in and for Christ and determine what you want to do with your life.
Ultimately we all want someone to walk alongside us in life, not someone to push, pull or make us into who they want us to be. As God created each of us uniquely to serve many roles in life, He also created (for most of us) someone to do it with.
Don't worry….For your heavenly Father already knows all your needs. ->Matthew 6:31-32
Wow, I can hear your heartache and frustration at this journey of finding love. Let me first address your personal evaluation. I would strongly encourage you to talk to your friends who know you well. Ask them if there is anything in your personality, approach, walk with the Lord that stands out in such a way that could push girls away. While we may feel we are OK, others who care about us may see something different. Their perspective could give insight on some things you could change so that you do get more women to respond in a positive manner.
Now, onto liking this girl. While I do think your approach was great, going on a hike and talking with her, my concern is your pursuit with someone who is already dating someone. Why would you want to date a person who is not where they need to be spiritually? Even if you had a connection (and by the way, you can have a connection with several women even at the same time), it's not a green light to pursue them. I know it's exciting to finally have someone who you hit it off with and like as more than a friend. Yes, she is dating unequally yoked but she has still made a commitment to this man. I think you need to let this one go and allow the Lord to deal with her directly. If she were to break up with this guy, you do not want to be the rebound boyfriend. She will need some time with God alone to sort her own walk and decisions. She will need a friend, not another boyfriend.
So what is your next step? Build your own friendships (that are following the Lord), praying and asking God if there is anything in yourself that needs to change. Make changes including picking women that are seeking the Lord as you are. Then allow the Lord to do his part. Be encouraged that as you continue to grow in your walk, God will reveal the right paths and the right women to pursue.
I run in the path of your commands, for you have broadened my understanding. Psalm 119: 32
HE is … Cliff Young, a Crosswalk. com contributing writer and a veteran single of many decades. He has traveled the world in search of fresh experiences, serving opportunities, and the perfect woman (for him) and has found that his investments in God, career and youth ministry have paid off in priceless dividends.
SHE is. Kris Swiatocho, the President and Director of TheSinglesNetwork. org Ministries and FromHisHands. com Ministries. Kris has served in ministry in various capacities for the last 25 years. An accomplished trainer and mentor, Kris has a heart to reach and grow leaders so they will in turn reach and grow others. She is also the author of four books.
DISCLAIMER: We are not trained psychologists or licensed professionals. We're just average folk who understand what it's like to live the solo life in the twenty-first century. We believe that the Bible is our go-to guide for answers to all of life's questions, and it's where we'll go for guidance when responding to your questions. Also, it's important to note that we write our answers separately.
GOT A QUESTION? If you've got a question about anything related to singleness or living the single life, please submit it to hesaid-shesaid@crosswalk. com (selected questions will be posted anonymously). While we are unable to answer every inquiry, we do hope that this column will be an encouragement to you. Click here to visit the He Said-She Said archives.
Publication date: October 13, 2018
Is your ex with someone new? Would you like to get them out of this person's arms and back into your own? How can you successfully get your ex back when they're going out with someone else?

I can't stress enough that this is a unique type of situation so you have to take the time to study the details so that you can figure out the best way to get your ex back. If your ex is seeing someone else you'll have to use a different strategy and not focus too much on getting back together, but rather on your plan of action and on the precise actions that you'll need to set into motion.
Under these circumstances, don't panic and avoid chasing after your ex or doing things before thinking them through at all costs. The more you declare your love to your ex, the slimmer your chances will be of getting back together. In all honesty, for the people I coach I get the same rate of success that your ex would with you or someone else, so you must understand that you will still have the opportunity to succeed in getting back together with the person you love but in order to succeed you have to follow strict rules. I understand why someone would ask How do I get my ex back when they are with someone else because I coach people in this exact situation all the time.
It's logical to feel doubtful and to endlessly mull the situation over in your head when you're wondering how to get your ex back when they are with someone else. You should know however that the only difference between a situation between this one and if your ex didn't have anyone else is that you're not allowed to make as many mistakes. This is why I invite you to immediately read This article to find out more about the actions you should do in order to once again become the center of attention in your ex's eyes! In this article I will present to you techniques and the best way to adapt them to your situation because it's important to note that radio silence and the handwritten letter are not things to use when your ex is dating someone else.
When you're working on getting back together with your ex and you learn that they're with someone new, it's normal that you would start to question the outcome of your attempt. You don't know what to do to change the situation or how to control your emotions. It's normal that you would wonder, "My ex is with someone else; do I still have a chance?"
When you hear this "news," you feel like your world is crumbling. You can't believe that the person you love most on the planet would be going out with someone new after everything you had been through together.
You should know that the presence of someone new in your ex's life is not synonymous with the End of your attempt at getting back together. In truth thanks to my coaching sessions, I've learned that this is definitely not a determining factor in whether or not you're going to get your ex back! This isn't me being an eternal optimist; it's an assessment that I've made after having coached thousands of people.
Your Ex is in a Band-Aid relationship and this new fling simply means that they want to move on, but you'll always remain in their mind. They're with the "rebound."
What I'm about to say to you might sound hard to believe, but in my experience I've seen a great number of people that have been able to get the upper hand in the situation when their ex is with someone else. In this situation, they understood that they had nothing left to lose so they stopped putting pressure on themselves. This is an important aspect if you want your actions to have a big impression.
If you feel like you've got Nothing left to lose you'll feel lighter and it will be easier to adopt the right attitude that will grab your ex's attention. Your ex won't even recognize you!
If you're wondering how to Get my ex back when they're with someone else and you want to get in control of the situation when you hear the news, it's important that you understand that your ex will never see you in the same way again. Before this you were just the ex that wanted nothing more than to be together again but today you are an independent person that can get the upper hand in the game of seduction.
Your ex will pick up on the change in your behavior, your image and all the actions that you're doing that will ultimately re-seduce them. It's important to never completely unveil what you're up to… I wouldn't go as far as to say that the fact that your Ex is in a new relationship is a godsend but this situation deals you a good set of cards in the game of getting back together.
In contrast, be careful to not make mistakes when you feel panicked (like harassing or begging your ex to take you back) because this will just push them further and further away from you and further into the embrace of their new partner. You have to make your worth obvious.
If you are familiar with my philosophy you have to know the importance of never placing your ex on a pedestal. You are on the same level and you will be able to use many Psychological and emotional tools geared towards getting back together with your ex and these will help you to get back in control of the situation and to prove your worth.
Now that your ex is with someone else, nothing is holding you back from posting pictures on Facebook of all the fun activities you've been doing or you can post things in regards to your new philosophy with ex quotes about joy and the desire to live life to the fullest.
Similarly, you're finally going to go out and socialize as much as you can with your friends so that you can meet new people and find new opportunities.
When all is said and done, you are free and you can show that to everyone. Your ex will become aware of it as well because they'll immediately notice the changes you've made (including all the things you were scared of doing while you were scared of losing them…) An ex in a new relationship will realize what an amazing person you really are!
To boost you self-confidence and to Plant a seed of doubt in your ex's mind while they're with someone new, you shouldn't be playing a role; you should really become a new and improved version of yourself and you should work on it every day. Don't forget to work on your image as well because physical attraction is very important as well.
I wish you all the best because it's never easy to Know that your ex has a new boyfriend or girlfriend, but today you have the chance to use it as a source of positive energy that will help you set into motion the right actions that will help you reach your goal.
To take it a step further, I invite you to check out our eBook "70 Pro Tips To Get Back With Your Ex". You'll learn an effective method for proving to your ex that you're their ideal partner, and with practical advice, coaching exercises and my philosophy, and you'll be in a position to make your regret their decision to leave you.
Expert in rebuilding relationships even when your ex is with someone else